Financial Security Against Repair Costs Like These…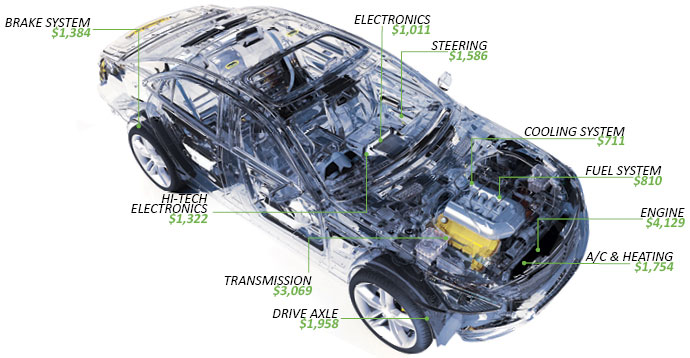 Repair costs represent average claim amount.
ADDITIONAL BENEFITS OF OMEGA
GET COVERED TODAY!
You already have insurance if someone or something damages your car. Omega Auto Care is insurance for when your vehicle inevitably becomes damaged due to mechanical failure. Modern cars don't just come with the latest mechanical equipment, they also come with complex electronics, technology, and infotainment systems. As a result, modern cars are more expensive to repair — unless you have Omega Auto Care.
Our auto warranty programs pick up right where your factory warranty leaves off. When you have Omega Auto Care on your side, a $5,000 repair bill for a busted transmission is no longer a nightmare scenario. From faulty fuel systems to failing brakes, our auto warranty has you covered.
It's more than protection, it's financial security!
About Our Auto Warranty Coverage
As a car owner, you want to get the most out of your vehicle. While basic maintenance certainly helps extend your car's life, this is not always enough. When mechanical failure causes auto issues past your factory warranty, these bills can add up, causing a potentially difficult financial situation. Soon, your repair bills are more expensive than the car you spent seven years paying off.
This is where Omega Auto Care comes in.
We know that you want to keep your car past its warranty but don't necessarily want to spend thousands of dollars every time something goes wrong. But with our unique vehicle warranty coverage plans, you don't need to worry. We pick up where your warranty leaves off, offering coverage, roadside assistance, and benefits to fit your needs. This provides both protection and financial security.
Have a claim? Use one of our RepairPal certified shops and we'll waive your deductible. Be sure to only take your vehicle to a licensed repair facility of your choice. You may also click on this link www.repairpal.com/omega to use our certified network. Have the repair facility contact us at 877-850-0443 before you direct any repairs to be made.
Maintenance Program
If You purchased an Omega Auto Care Vehicle Service Agreement (Agreement) You also receive benefits with the Omega Maintenance Program (Program). Coverage under the Program begins thirty (30) days after the date shown as the Agreement Purchase Date shown on the Declarations Page in the Covered Vehicle Section of the Agreement You purchased from the Seller. This Program expires when thirteen (13) months from the Agreement Purchase Date.
MAINTENANCE BENEFITS:
OIL CHANGES: Oil changes up to 5 quarts (maximum three (3) oil changes during the term of the Agreement at $40.00 for each service); however, if synthetic oil is used, blends, or for diesels, larger V-8 type vehicles You will receive a $55.00 discount.
BRAKES PADS/SHOES: $100.00 or $130.00 on select vehicles as follows all trucks, SUV's, AWD's, diesels, and all models of Acura, Audi, BMW, Cadillac, Infiniti, Jaguar, Lexus, Lincoln, Mercedes, Saab, Volkswagen, and Volvo toward the replacement of brake pads/shoes (A labor charge may apply).
BATTERY: $100.00 credit towards replacement of a failed battery. Limit one (1) battery per Agreement (installation charge may apply). Not valid if replacement of battery is in conjunction with or due to another repair.
COOLING SYSTEM MAINTENANCE & LUBE: Drain/refill, pressure check, inspect hoses, belts, clamps, & lube chassis. WE will pay for (1) service during the term of the agreement up to $40.00.
SAFETY INSPECTION: Includes wiper blades replacement with one (1) inspection (Up to 20" blades).
Required Factory Maintenance Mileage Interval such as 30,000, 60,000 and 90,000 miles inspections are not covered under this program. We do recommend that you properly maintain your vehicle and realize that these events can be expensive. In the event that you wish to have these inspections done we do offer financing option that you may qualify for. Please feel free to contact us to learn more about our repair loan financing programs.
Maintenance Reimbursement Procedures:
To be eligible for reimbursement on the listed items above, please fax or email a copy of the invoice and your paid receipt(s), within 45 days from date of service, to Fax: 636-246-0333/Email: [email protected]. Please allow 3-4 weeks for refund processing.
What Are the Benefits of Purchasing a Car Warranty? Roadside Assistance, Rental Cars, and More
While our plans are set up to provide you with exemplary service, our assistance doesn't stop there. We also offer several client benefits to keep you prepared when the unexpected happens. So beyond paying for mechanical repairs to your vehicle, once you sign an Omega Auto Care vehicle service contract, you can expect the following benefits:
Roadside Assistance:

When you find yourself on the side of the road due to a mechanical failure, we have you covered. This benefit covers towing, flat tire changes, jump starts, vehicle fluid delivery, lockout service, and concierge service. For more information on benefit details and restrictions, refer to our website.
Road Hazard Coverage (Tire Only):

Did a tire issue hault your commute? We have you covered. We will reimburse you for the cost of repair. And if it's not repairable, we will cover the cost of the tire replacement.
Rental Car Reimbursement:

When car repairs require you to rent a car, we can help you out. For more information on what rental car benefits are available for your plan, visit our Benefits page.
Trip Interruption:

Incidents happen during long trips, causing delays and other inconveniences. If you are left stranded more than 100 miles from home, we can cover your hotel expenses.
For more information on the benefits of auto warranties, call our representatives today. We can help you determine how each fits into your specific coverage plan.
Here at Omega Auto Care, we want to make financial security and peace of mind the norm for car owners who are no longer protected by a factory warranty. With our plans and benefits, you can boost your coverage post-warranty, driving your car for years to come. We look forward to working with you.